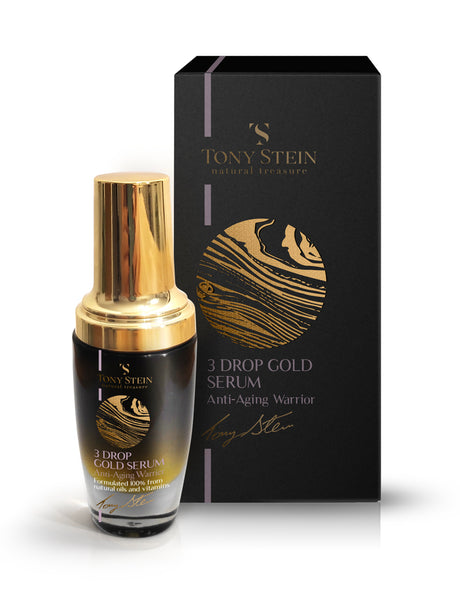 3 Drop Gold Serum
Tony Stein
Anti-Aging Warrior
Supercharged with 15 of Nature's Active Ingredients Plus Vitamin C: Moringa Seed Oil, Avocado Oil, Olive Oil, Jojoba Seed Oil, Squalane, Coconut Oil, Rosa canina Fruit Oil, Primrose Oil, Lavender Flower Oil, Frankincense Oil, Geranium Oil, Sunflower Seed Oil, Wheat Germ Oil, Hippophae Rhamnoides Oil, Pomegranate Seed Oil, Vitamin E, Vitamin A.
This Anti-Aging Warrior will protect your skin from signs of aging as it permeates deep into your skin with just 3 golden drops per use! This serum is a natural warrior that will protect and serve your skin. Experience a potent blend of rich oils that will leave your skin feeling ultimate rejuvenation like never before.
Directions: After cleansing, gently apply 3 drops to face and neck using outward and upward motions, focusing on deep lines and wrinkles. Use as part of your nightly routine
Why we created this product:
Your skin deserves to be protected, nourished and healthy. The 3 Drop Gold Serum will be your personal warrior against signs of aging. This serum harnesses the strongest natural formula to maximize results and minimize the appearance of lines, without compromising its' purity with toxic ingredients.
All Tony Stein products are non-toxic, have no artificial fragrance and are sold in eco-friendly glass bottles that may be reused, recycled, and upcycled!

Suitable for all skin types

Toxic Free - Never Tested on Animals - Free of Artificial Fragrance
Moringa Seed Oil 
Avocado Oil
Olive Oil
Pomegranate Seed Oil
Sea Buckthorn Oil
Jojoba Seed Oil
Sunflower Seed Oil

Coconut Oil
Rosa canina Fruit Oil
Primrose oil
Lavender Flower Oil
Frankincense Oil
Flower Oil
Wheat Germ oil
Vitamin E
Vitamin A
 Squalene comes from 100% plant-based- renewable sugarcane
Experience luxurious skincare that is supercharged with Mother Nature's active ingredients for powerful cell regeneration.
While most skincare products contain one or two active ingredients, Tony Stein creates every product with up to 15 natural ingredients that are designed to meet foundational skincare needs.
An abundance of antioxidants and vitamins will give your skin the most effective restoration.
Now you can boost your skin metabolism and prevent daily damage from free radicals, all with one collection.
All products are vegan and plant based, never tested on animals, and made with only sustainable eco-friendly casing, and free of artificial fragrances.
The Tony Stein journey began with a grand vision, one that had been molded and nurtured over several decades.
Tony Stein's background and experiences have summed up to an abundance of wisdom and intuition
in the field of cosmetics.
Every formula is created with intention in order to bring effective, quality products that harness nature's healing and nutritious gifts, Superfood for your skin cells.
With a cross-country upbringing, creator Tony Stein was granted with a rare insight into health, nature, anti-aging and luxury; these are the core principles in which each product is created, and with only natural active ingredients.
Every product is designed to meet a full spectrum of skincare needs, and is the result of endless research,
testing, and love. Tony has put together a team of experienced natural cosmetics pharmacists and herbal specialists to make this unique line of products.
Every Tony Stein product is carefully designed to maximize healing with the most potent and anti-aging active ingredients from our own Mother Nature, A Natural Treasure