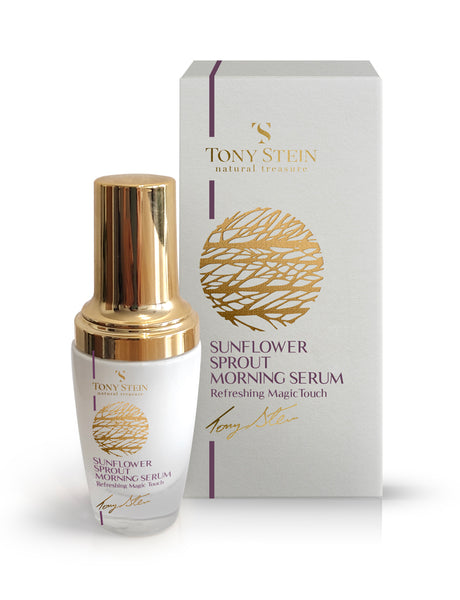 Sunflower Sprout Morning Serum
TONY STEIN - Natural Treasure
The Refreshing Magic Touch of our Sunflower Sprout Serum is surprisingly weightless and invigorating, bringing your skin back to life as you open your eyes and start your day. Our weightless formula visibly increases vitality by firming and brightening your skin, without that heavy oily feel of most serums. Enhanced with natural sunflower sprout oil, a natural anti-aging extract with high levels of antioxidants that combats free radicals.
Directions: Use daily in the morning after cleansing. Gently apply two pumps over face, neck and décolleté using outward and upward circular motions.
Why we created this product: The pursuit for a strong and natural morning serum can feel endless, like finding the perfect little black dress or the perfect watch. No matter the reason that you woke up with puffy eyes, or dark circles, or dryness, Sunflower Sprout Morning Serum will restore vitality with just a few drops applied with the fingertips. The weightless formula allows for makeup to be applied without any caking, and still allows the skin to breathe!
All Tony Stein products are non-toxic, have no artificial fragrance and are sold in eco-friendly glass bottles that may be reused, recycled, and upcycled!
Suitable for all skin types
Non-Toxic Free of Artificial Fragrance
Jojoba Seed Oil
Avocado Oil
Pomegranate Seed Oil
Pelargonium Flower Oil
Aloe Vera Leaf Extract
Sunflower Seed Oil
Vitamin E
Hyaluronate Acid – Plant based
Experience luxurious skincare that is supercharged with Mother Nature's active ingredients for powerful cell regeneration.
While most skincare products contain one or two active ingredients, Tony Stein creates every product with up to 15 natural ingredients that are designed to meet foundational skincare needs.
An abundance of antioxidants and vitamins will give your skin the most effective restoration.
Now you can boost your skin metabolism and prevent daily damage from free radicals, all with one collection.
All products are vegan and plant based, never tested on animals, and made with only sustainable eco-friendly casing, and free of artificial fragrances.
The Tony Stein journey began with a grand vision, one that had been molded and nurtured over several decades.
Tony Stein's background and experiences have summed up to an abundance of wisdom and intuition
in the field of cosmetics.
Every formula is created with intention in order to bring effective, quality products that harness nature's healing and nutritious gifts, Superfood for your skin cells.
With a cross-country upbringing, creator Tony Stein was granted with a rare insight into health, nature, anti-aging and luxury; these are the core principles in which each product is created, and with only natural active ingredients.
Every product is designed to meet a full spectrum of skincare needs, and is the result of endless research,
testing, and love. Tony has put together a team of experienced natural cosmetics pharmacists and herbal specialists to make this unique line of products.
Every Tony Stein product is carefully designed to maximize healing with the most potent and anti-aging active ingredients from our own Mother Nature, A Natural Treasure